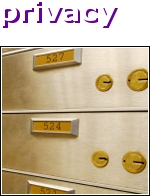 This privacy statement shows our commitment to privacy and explains how we gather and disseminate information at eBizInfoCenter.com.
Data Collected With Forms
Our site uses various forms to accomodate requests for information, services, newsletter subscriptions, downloads and referrals. Some forms require users to give us contact information such as name and e-mail address.
The contact information is used for contact purposes when necessary and for processing subscriptions. Users may opt-out of receiving future mailings.
We may keep a record of any and all use of forms on our Web site for processing and/or reference, in case there should be questions or investigations. In some cases we may track the frequency of form usage and/or the data submitted thereby, for statistical and/or demographic purposes.
Outgoing Links
eBIZInfoCenter.com contains links to other Web sites. We have no control over these Web sites and are not responsible for the privacy practices or the content of such third-party Web sites. Contact these third-party Web sites for information on their privacy practices and terms of use policies.
Other Information
We collect anonymous Web site statistics and site-wide information. We also log domain names, users' system data, and/or IP addresses. We use this data to help diagnose server problems, manage our Web site, or to customize a more efficient experience for our visitors.
Security
This site has security measures in place to properly safeguard against the loss, misuse and alteration of the information under our control.
Personal information is never stored in publicly accessible areas of our web server, and no personal information will be voluntarily released to any other person or entity.
Opt-Out
This Web site provides the opportunity for users to unsubscribe, opt out, or to have their information removed from any lists or database so as not to receive future communications from us. Newsletter subscribers are given unsubscribe instructions in every issue. Alternatively you can click here to unsubscribe, or use the form on our contact page to alert us.
Questions
You are welcome to contact eBizInfoCenter with any questions you may have regarding this privacy statement, our practices, or your dealings with us.